Anti-Vibration Ubolts - Done the Graphskill Way
Traditionally, anti-vibration u-bolts are heavy-duty with the u-bolt encased in a rigid 'cog-like' rubber. Graphskill does manufacture a range of these and clicking the image below will take you directly to them – the famous 1109 Series. Our standard range is with the u-bolt being T316 Stainless steel, but we can manufacture in other steels and finishes.
The 1109s are manufactured using a special 'encasing' system where the rubber is moulded onto each u-bolt. The 'cog' casing is therefore rigidly adhered to the steel u-bolt.
The main advantages of Anti-Vibration u-bolts are that they:
– Reduce or eliminate noise and fatigue due to vibration of pipework against the supporting structure
– Prevent galvanic corrosion due to the contact of dissimilar metals in the presence of an electrolyte
– Prevent wear and/or crushing of composite, thin wall or non-ferrous pipework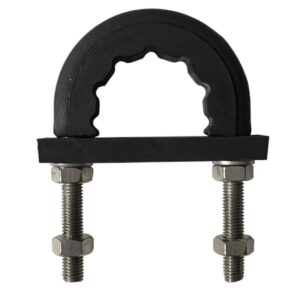 Graphskill recognises that while the heavy-duty anti-vibration u-bolts are great they can be overkill in some situations, so we developed a light-duty style – our 1110 Series. The 1110 series have all the advantages of the heavy-duty style, but the rubber is grooved rather than cogged and because these utilise a slide over tube rather than encasing treatment they are a lighter, more flexible and cheaper option.
It is vitally important when using rubberised u-bolts that you ensure the rubber matches your needs. For example, if you are using the u-bolts in an oily environment, you will not want the rubber to dissolve in contact with the oil. To this end, all of our rubberised u-bolts shown on the website have a full data sheet showing not only the full dimensional data, but details of the specific rubber used.
Following on from this idea that different rubbers may be suitable only in certain environments, we have developed the 1110 series further to include different types of rubber. Namely the 'flame-retardant' and the 'flame retardant / heat resistant' types. And to help tell them apart the standard are black as shown above, the flame retardant is a hot red, and heat resistant is a cool grey

You should be able to see that the 'D' profiled rubber is grooved to absorb the vibration.
Graphskill do not just have anti-vibration rubberised u-bolts. We have a wide range of alternatives. See all our our 'rubberised' u-bolts here to ensure you are selecting the correct u-bolt for the job: